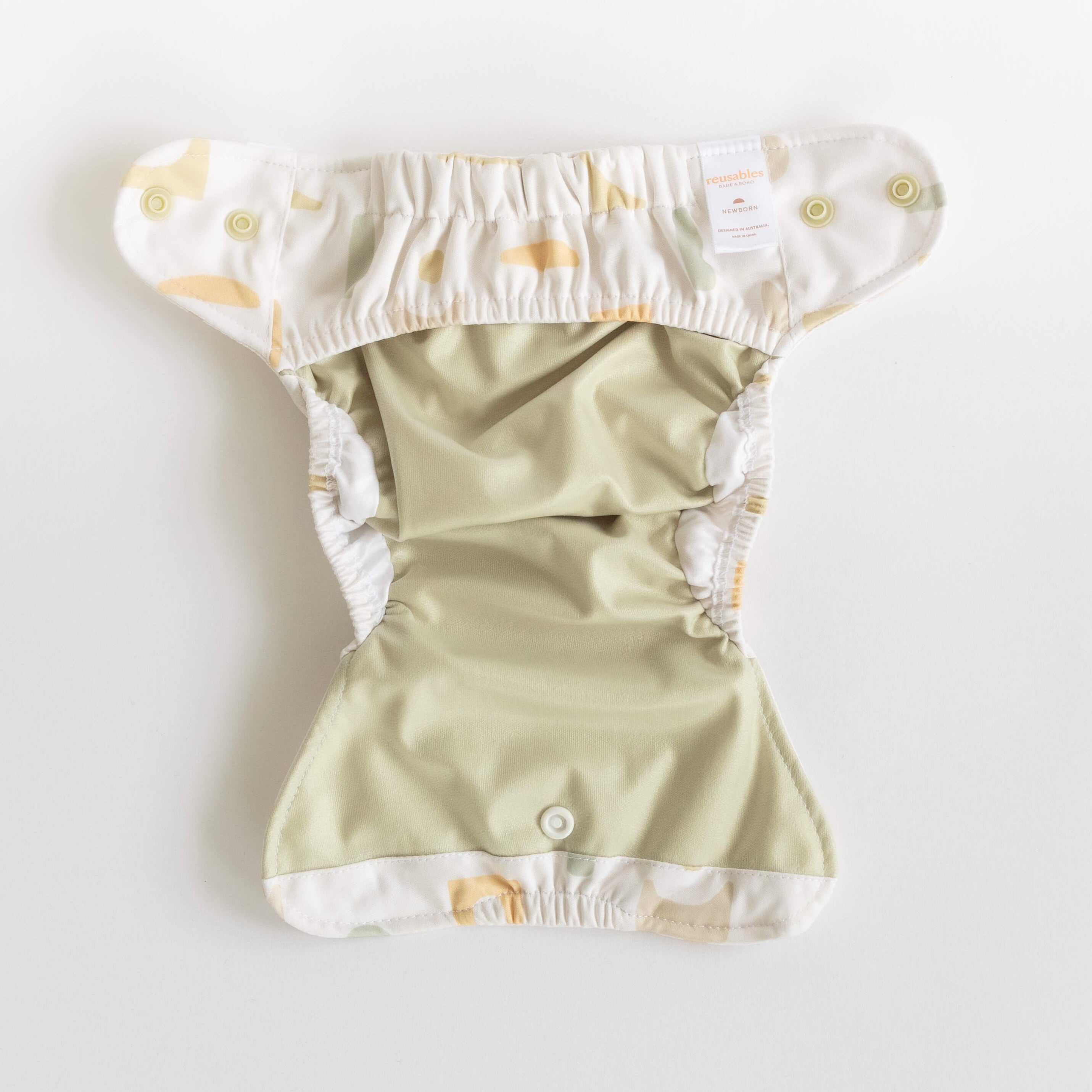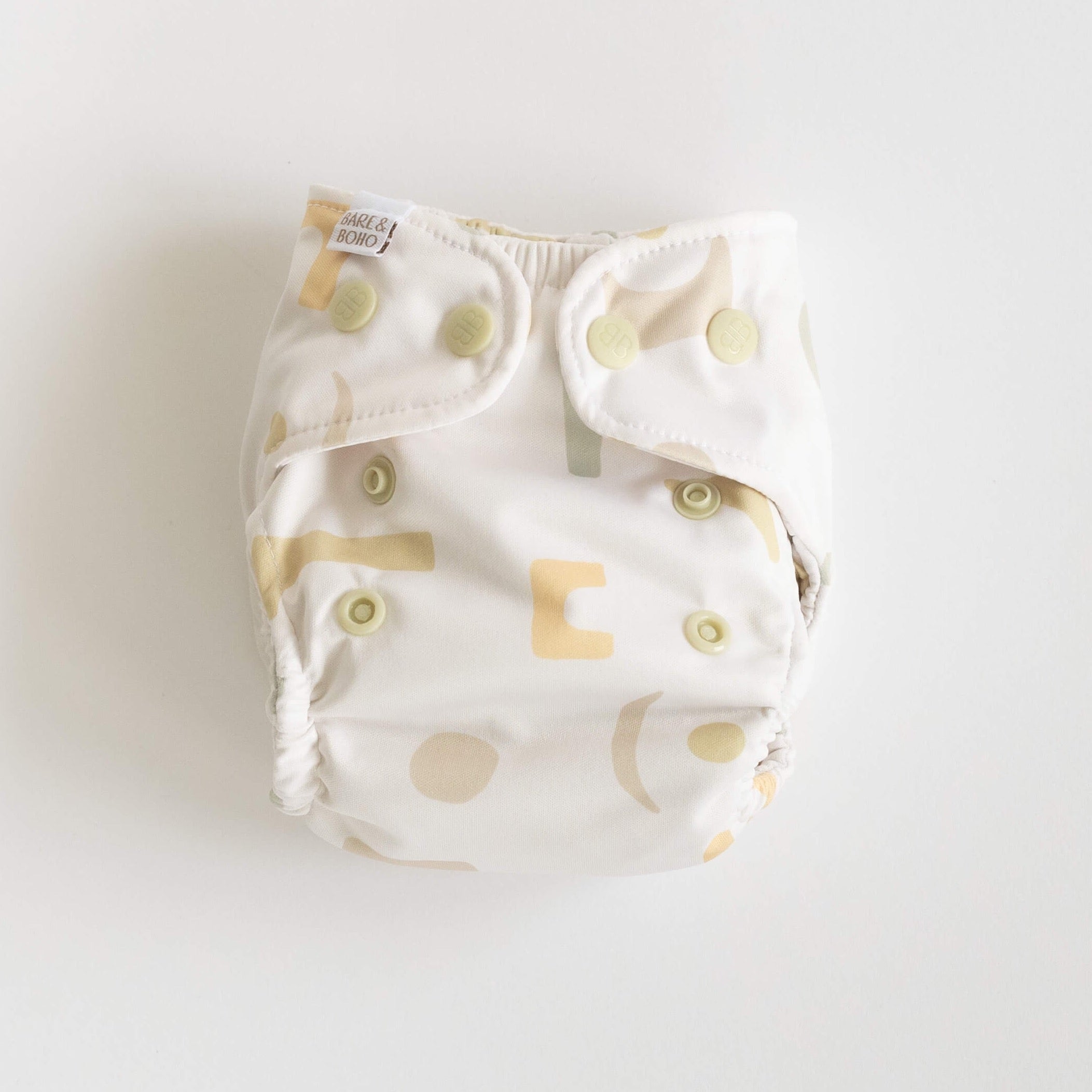 Reusable Nappy Flexi Cover | Fresh Sage
---
Introducing our Reusable Nappy Flexi Cover - the eco-friendly and convenient choice for modern parents who prioritize sustainability without compromising on quality and comfort. Crafted with utmost care and attention to detail, our Nappy Flexi Cover offers an unparalleled blend of functionality, style, and environmental responsibility.
Our Flexi covers are a cost effective way for caregiver's to reuse their nappy cover multiple times throughout the day. By simply snapping in soiled insert, wiping down and snapping in a fresh insert, this provides a budget friendly alternative to single use covers (before washing! 😊)
Each Nappy cover features water-resistant material made from recycled polyester, made from ocean salvaged plastic bottles. The lining of our Flexi nappy covers, feature a wipeable material that is both soft to touch, but also water-resistant.  This cover is designed to be wiped down and reused, between nappy changes – depending on the level of soiling.
Our Flexi covers, are particularly helpful for changes when travelling and out-and-about, as you can take less with you and change quickly. Caregiver's are then able to simply take another cover and a handful of inserts, if planning to be outside of the home for the day for example.
Each cover features double gusseting in the groin for ultimate protection against leakage around the inner thighs.
Inside each cover, at the rear, is an inbuilt guard, that is designed to protect against leaks up the back of the bottom. The insert can be snapped in under this protective guard or can sit over the top. It is optional. At the front of each nappy cover, features an elasticated tummy band, that ensures the cover sits snug against baby's belly to protect against leakage.
Designed for weights 0-5kg. Suitable for premature babies.
Need bigger? Head to our One Size covers.

---
---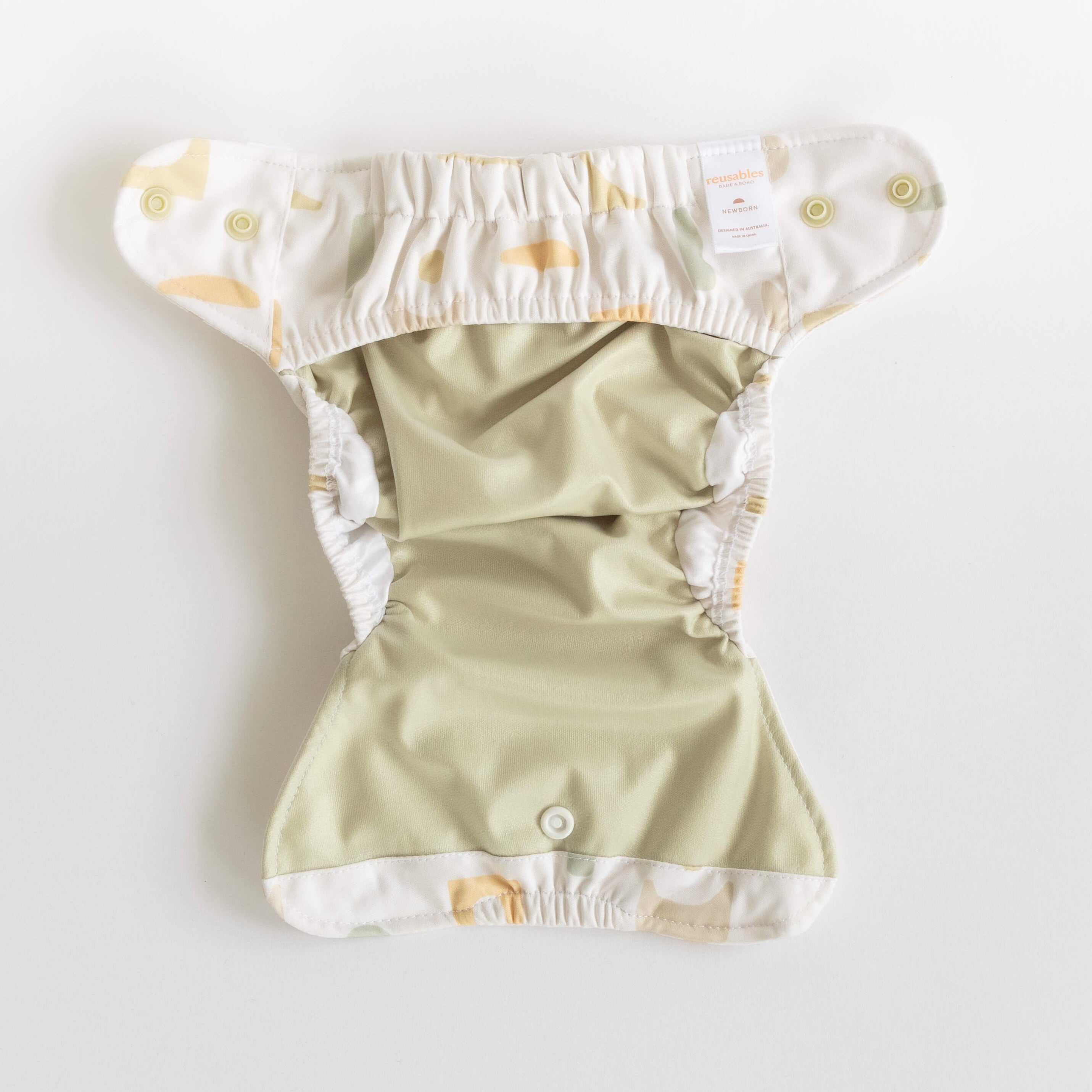 Nappy Fitting and Washing
FAQ
Switching to reusable nappies can not only save your family from the significant costs associated with disposable products, but will also have a positive impact on your family's environmental footprint!
In Australia, 2 billion nappies alone are disposed of annually. This means 450,000 tonnes of waste are dumped in landfill each year as a result of disposable nappies, baby wipes, disposable sanitary pads, tampons, incontinence pads and breast pads.
Flexi Cover is our wipeable cover. This is our original nappy cover and consists of a water resistant outer shell uniquely designed with our wipeable inner lining made from PUL (hence the name). These feature double gussets along the thighs offering extra leak-guard, and single gusset at the back.
Do I need to use a fresh cover every time I change my baby?

Our nappy covers are designed to provide you with the option to reuse them should they be free of any heavy soiling and don't have wet elastic gusseting.

You can simply snap in a clean insert or wipe down the shell and air-dry in between use, rotating a couple of covers throughout the day. 

We don't recommend reusing your cover if it has been soaked and is wet, as the elastics may run against bub's inner thighs causing irritation.
Soaking nappy covers is fine, so long as you avoid using bleaches or other harsh chemicals which may impact the laminate lining of the covers over the long term. 

Soaking of soiled nappies is not recommended with modern cloth nappies - unlike traditional cloth washing standards - so storing any soiled covers in a dry-pail between use will suffice.