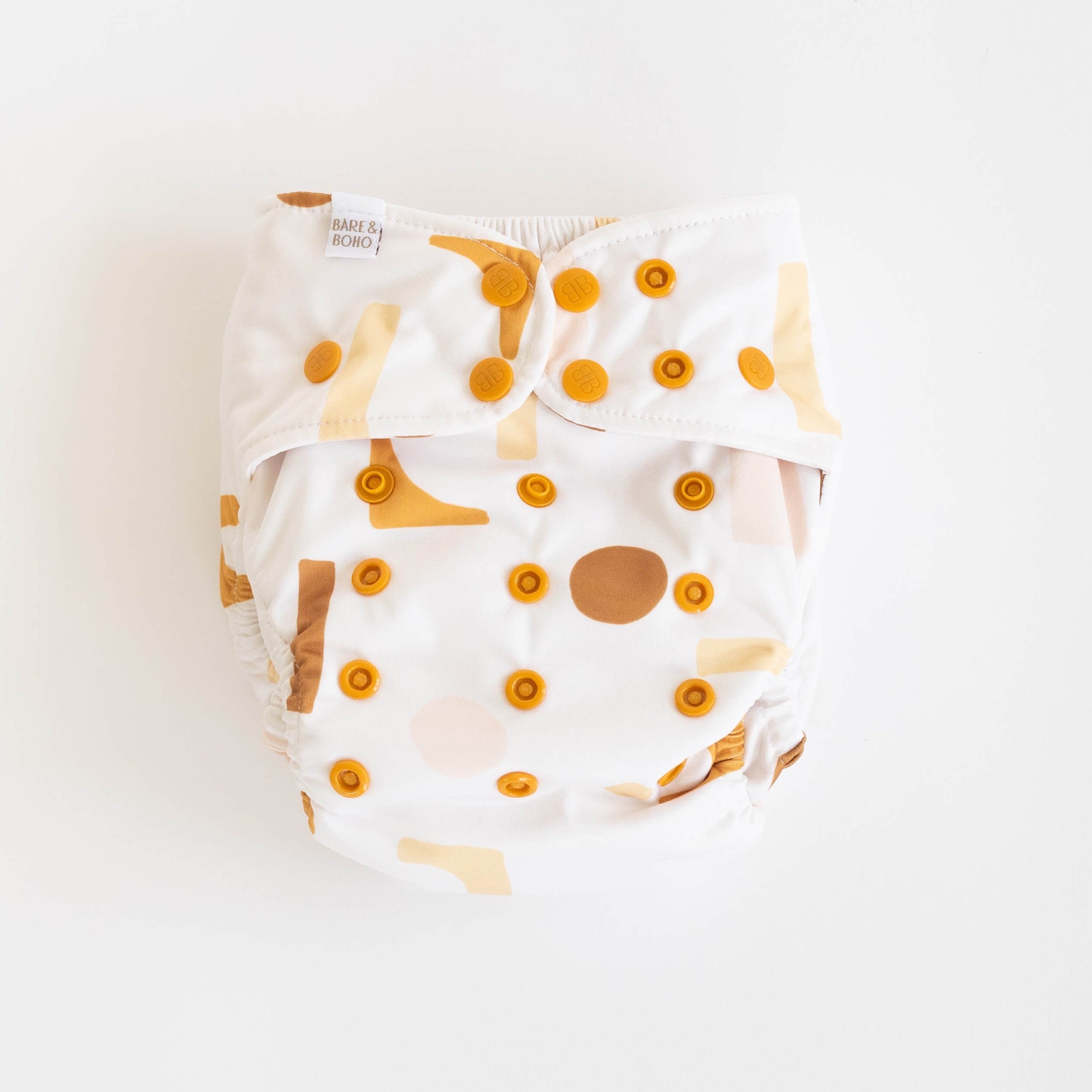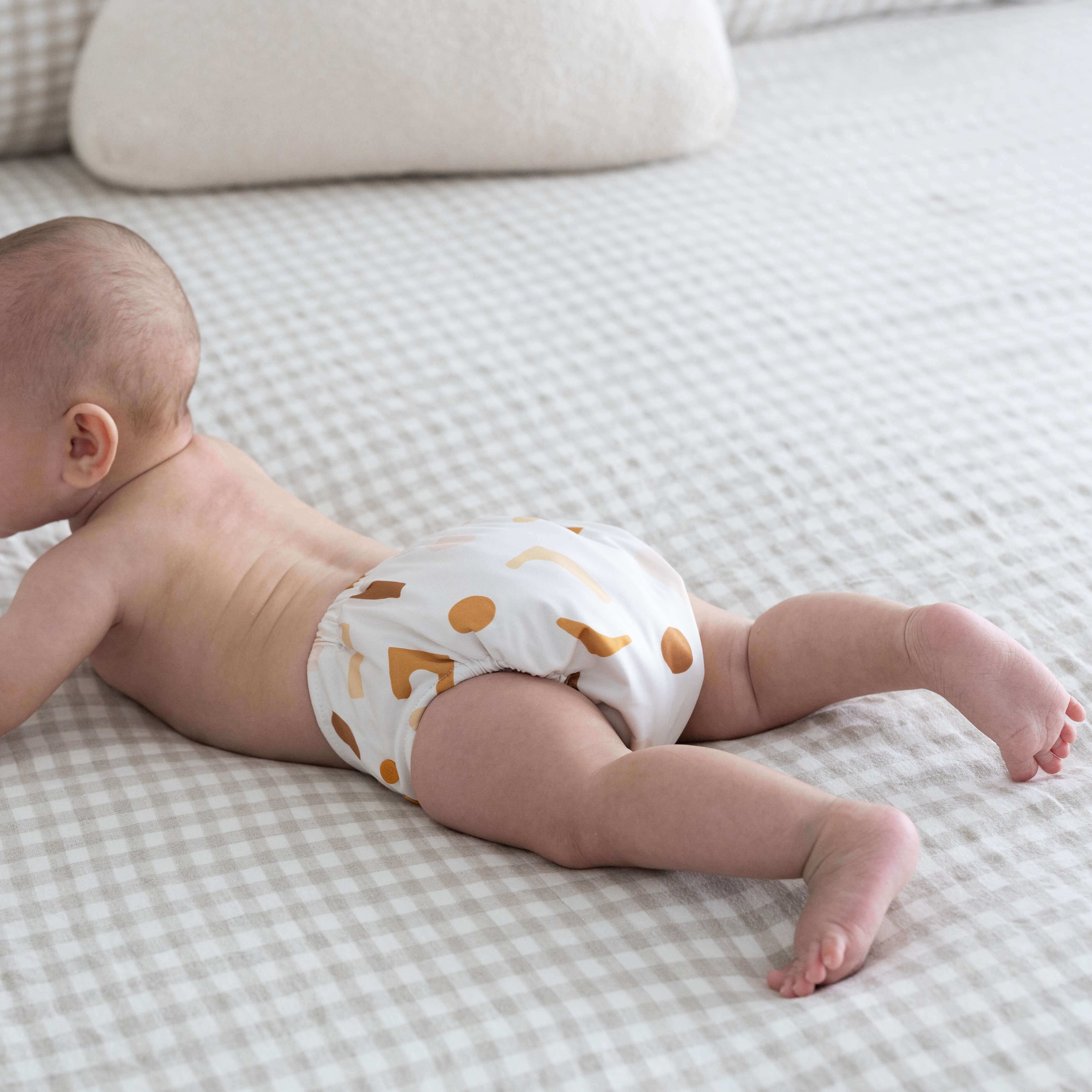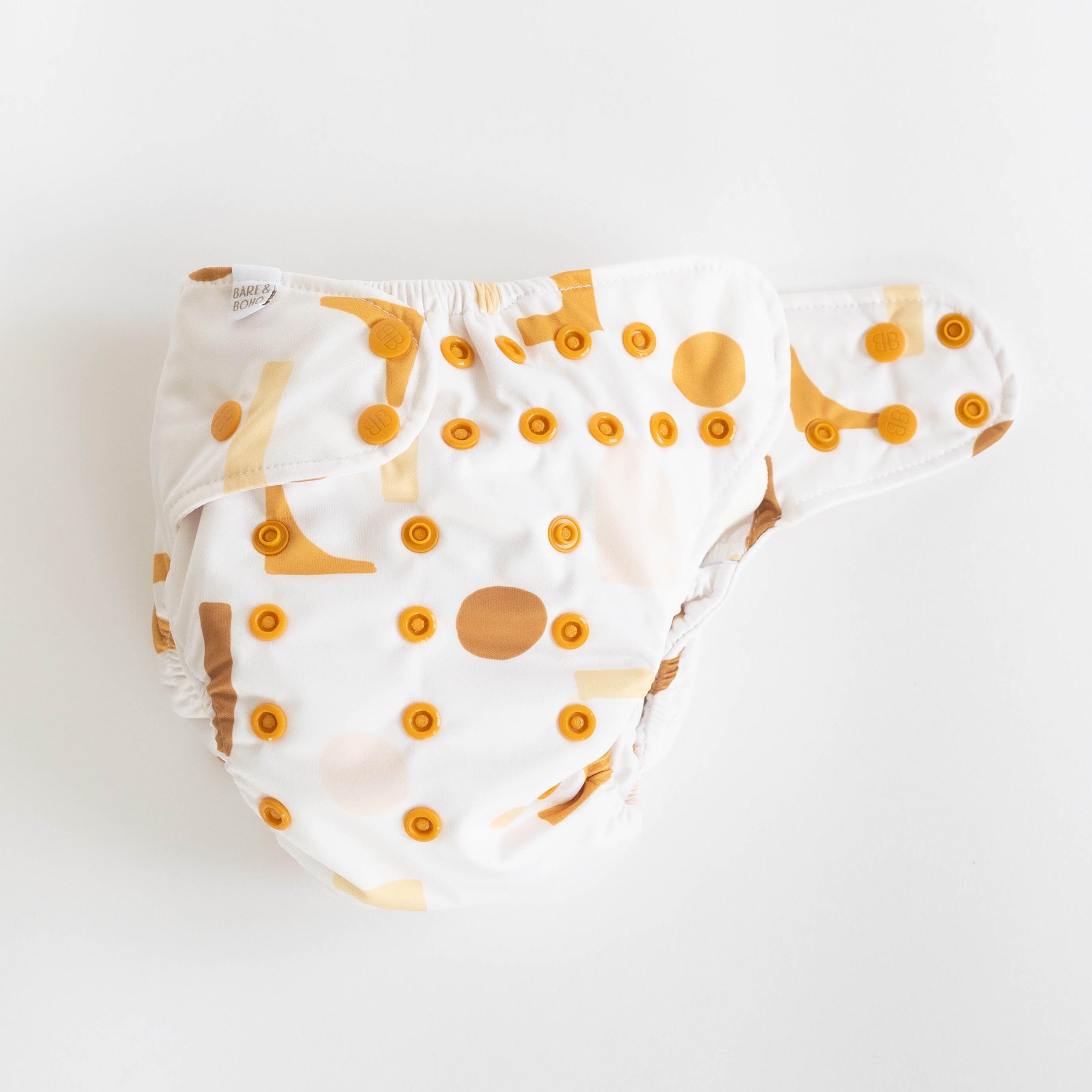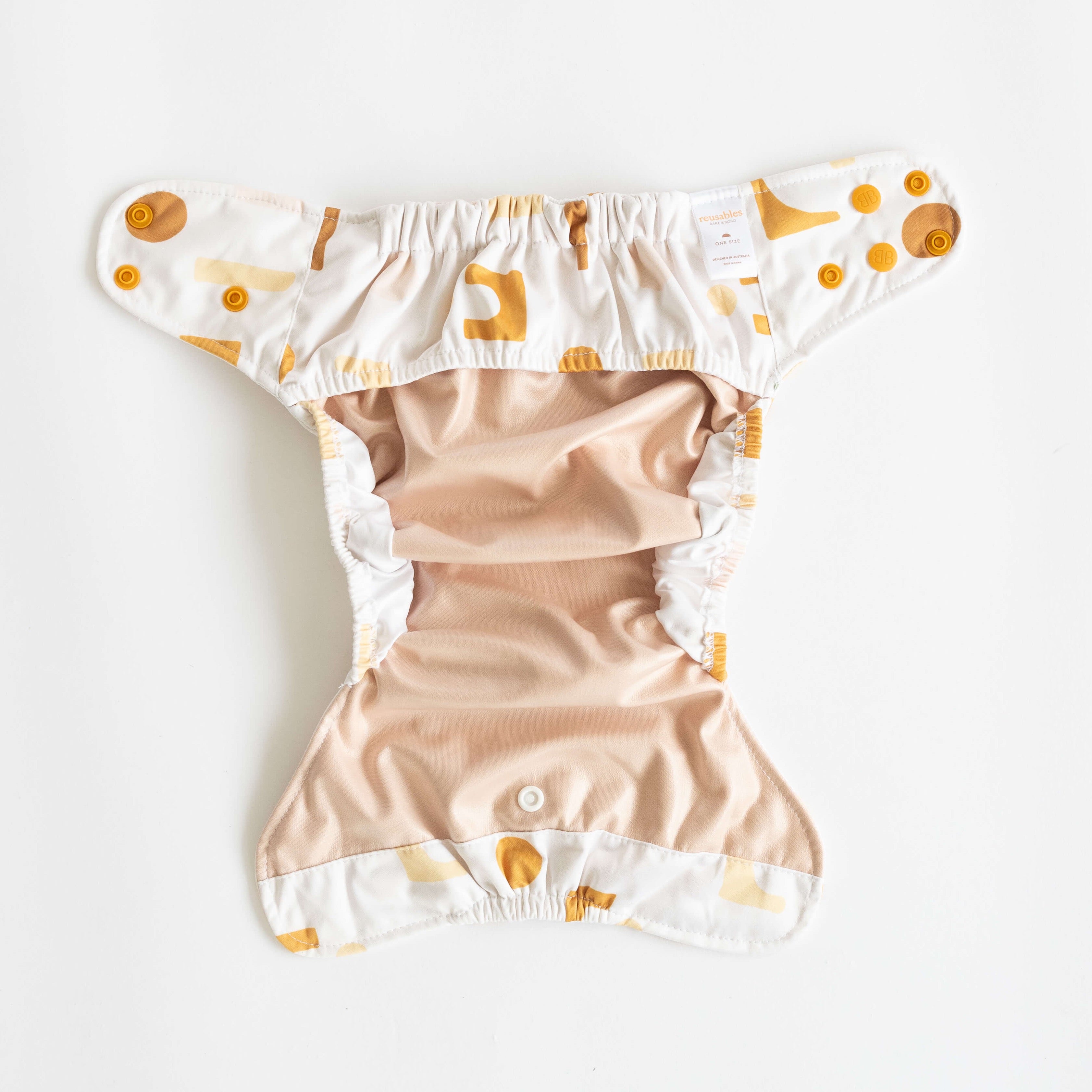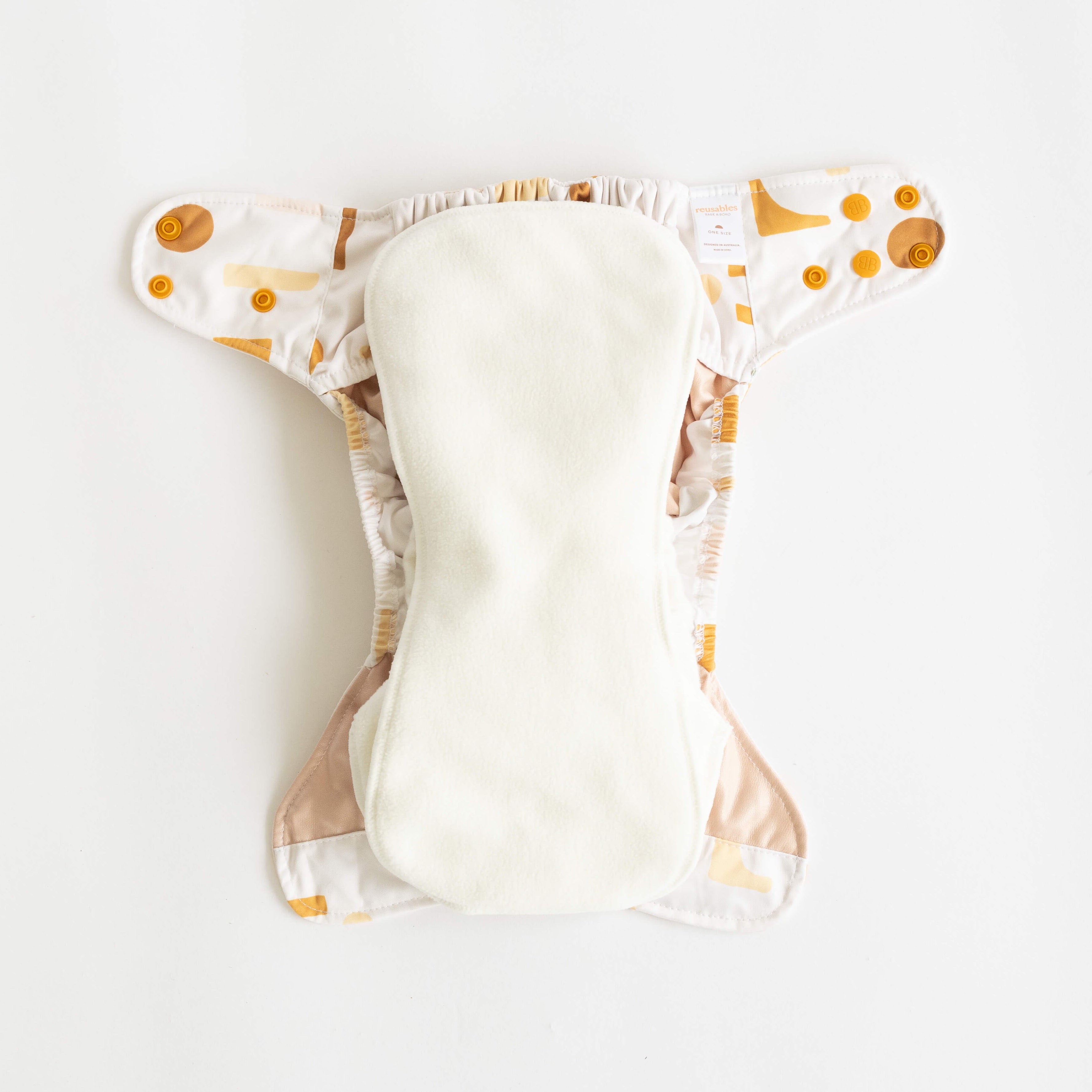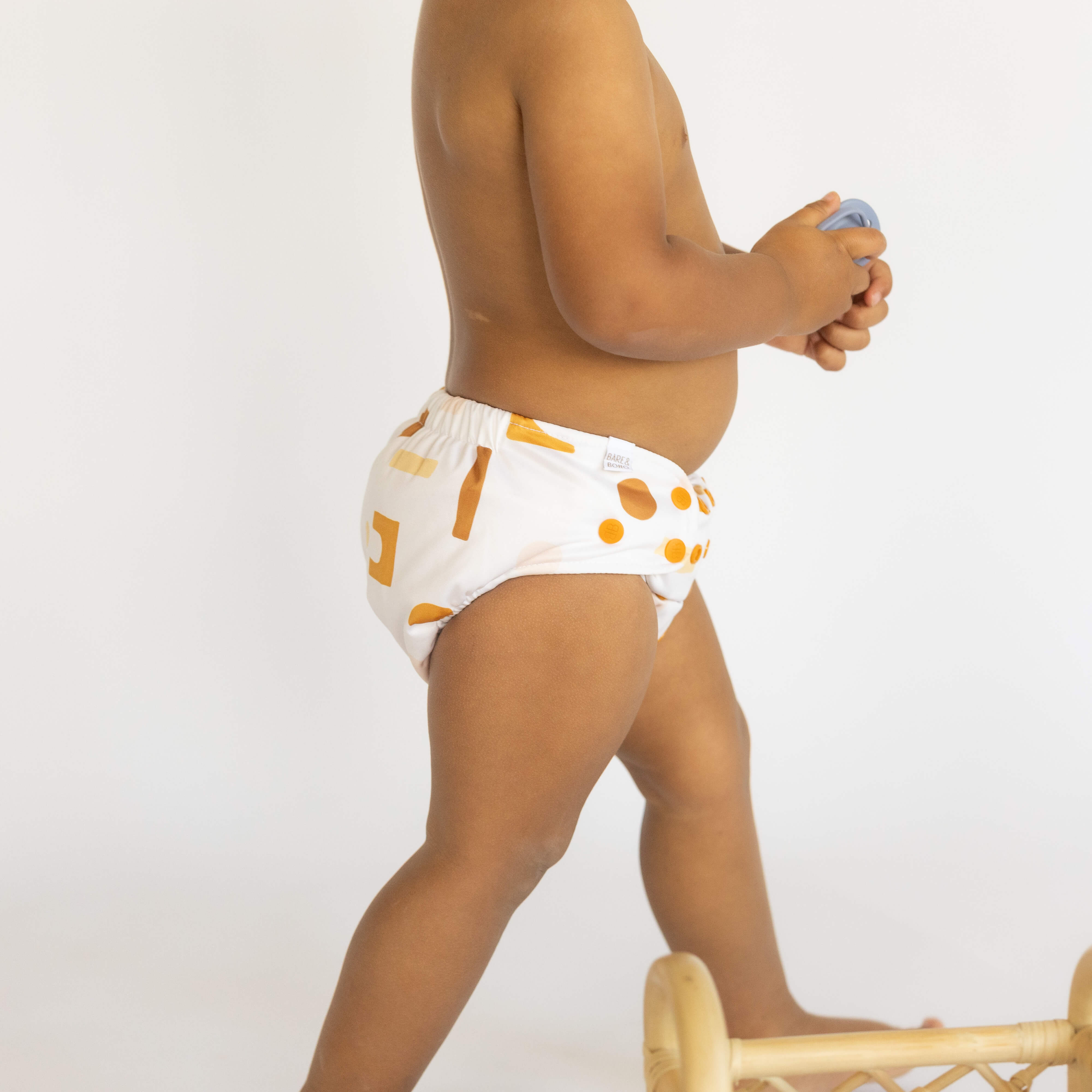 Reusable Flexi Cover Nappy 2.0 | Fresh Apricot
---
Introducing our Flexi Cover Reusable Cloth Nappy Set - the eco-friendly and convenient choice for modern parents who prioritize sustainability without compromising on quality and comfort.
Our Flexi covers are a cost effective way for caregiver's to reuse their nappy cover multiple times throughout the day. By simply snapping in soiled insert, wiping down and snapping in a fresh insert, this provides a budget friendly alternative to single use covers (before washing! 😊)
Each One Size nappy set includes;
1x FLEXI Nappy Cover *New and Improved!
1x 4-Layer Bamboo Insert PLUS inbuilt Stay-Dry lining *Now thicker for extra absorption!
1x 4-Layer Bamboo Booster PLUS inbuilt Stay-Dry lining
Crafted with utmost care and attention to detail, our Flexi Cover Nappy Set offers an unparalleled blend of functionality, style, and environmental responsibility. Every nappy features artwork, designed by renowned artists. 
Designed for weights 4 - 18kg.
Need Smaller? Grab a Newborn nappy set.
Our Covers:

Each Nappy cover features water-resistant material made from recycled polyester, made from ocean salvaged plastic bottles. The lining of our Flexi nappy covers, feature a wipeable material that is both soft to touch, but also water-resistant.  This cover is designed to be wiped down and reused, between nappy changes – depending on the level of soiling.

Our Flexi covers, are particularly helpful for changes when travelling and out-and-about, as you can take less with you and change quickly. Caregiver's are then able to simply take another cover and a handful of inserts, if planning to be outside of the home for the day for example.

Each cover features double gusseting in the groin for ultimate protection against leakage around the inner thighs.

Inside each cover, at the rear, is an inbuilt guard, that is designed to protect against leaks up the back of the bottom. The insert can be snapped in under this protective guard or can sit over the top.
It is optional. At the front of each nappy cover, features an elasticated tummy band, that ensures the cover sits snug against baby's belly to protect against leakage.

Our Inserts:

Each reusable insert, is designed to be snapped or lain inside the nappy cover. Our inserts can be snapped under the rear protection guard too for protection from leaks. Each insert features elasticating sides in the middle, so that the fabric cups the groin to best absorb moisture and protect against leaks in the inner thighs. Each insert features an inbuilt top lining that remains stay-dry and stay-soft, to quickly wick moisture away from bottom.

Our Boosters:

Each reusable booster is contoured in an hourglass shape, to best mould to the body. Our boosters feature an inbuilt top lining that remains stay-dry and stay-soft. Our boosters are designed to add absorption to the nappy, and are optional to use, based on each child's output.


To use, simply lay the booster over the insert or the booster can be folded in half, and placed at the
front of the nappy for boys. Boys generally wet the front.
---
---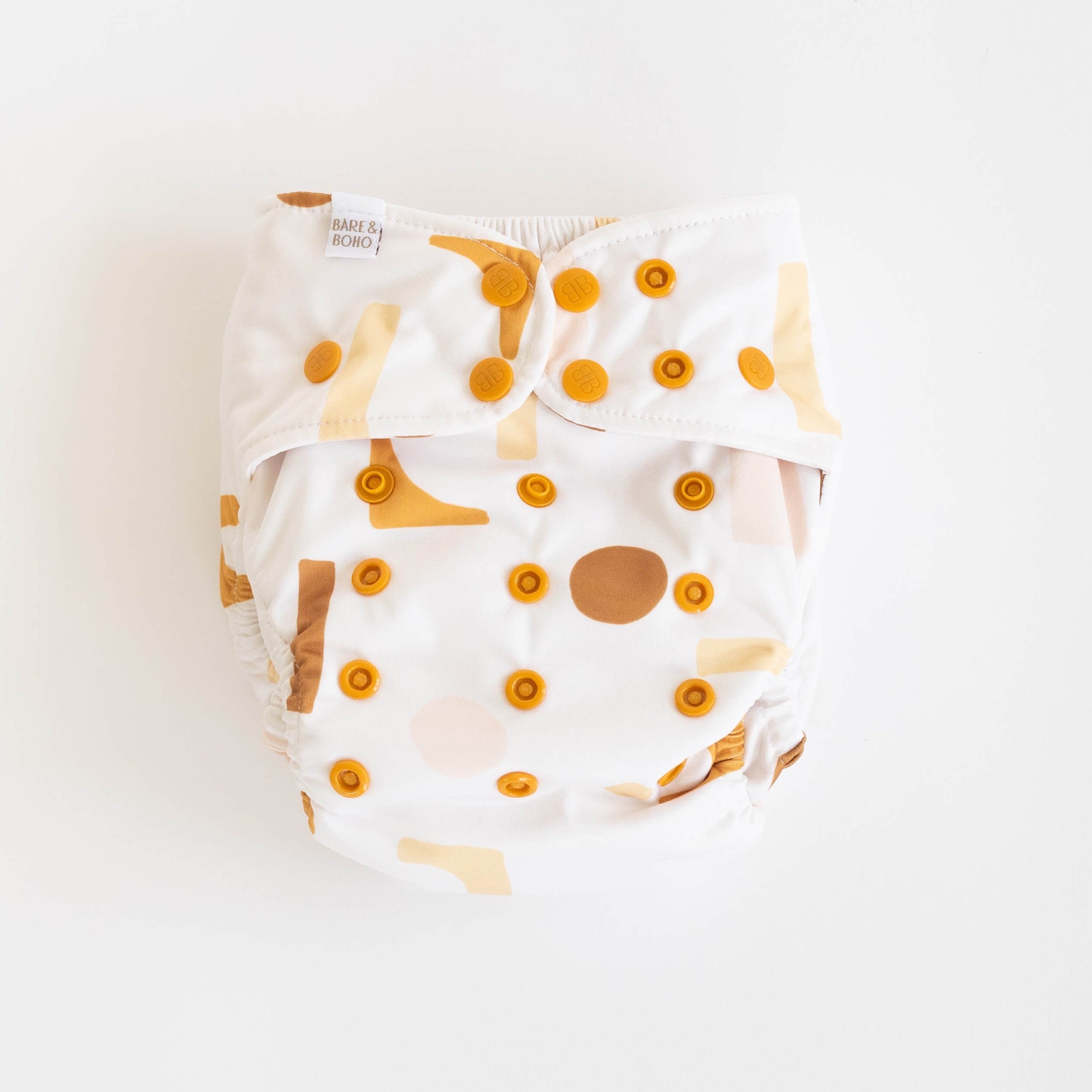 FAQ
Switching to reusable nappies can not only save your family from the significant costs associated with disposable products, but will also have a positive impact on your family's environmental footprint!
In Australia, 2 billion nappies alone are disposed of annually. This means 450,000 tonnes of waste are dumped in landfill each year as a result of disposable nappies, baby wipes, disposable sanitary pads, tampons, incontinence pads and breast pads.
How many cloth nappies will I need?

Our recommendation for those families planning on using cloth full-time (Changing on average every 2-4 hours), over an average 2 year period, for 1 child:

12-24 Nappy Covers
16-30 Inserts
5-10 Boosters/Trifolds depending on night use/heavy wetting. (Wet/colder regions may require more)
10-20 Microfleece liners

The following purchase options are a great solution to start with:

Three additional nappy sets
Three additional nappy covers
How often do I need to change a cloth nappy?

Cloth nappies are made with completely different materials to disposables. Disposables contain elements such as synthetic absorbent gels and fibres, making them fast absorbing, unlike natural fibres like Hemp or Bamboo. So your little one will feel moisture in most cases, which is great as it simplifies the transition to toilet training, later on.

Our inserts are designed for day use to absorb soiling. Changing recommended between 2-6 hours. Unless you have a heavy wetting toddler or are choosing to go longer between changes, you can opt to add a "Booster" or "Trifold".

Our reusable inserts consist of 4 Layers of absorbent fabric with Double-Layered Side gusseting around the thigh contour for maximum anti-leak protection.

If you find your little one is leaking and the insert is soaked completely (meaning it is not a fit issue, but rather the insert has absorbed all it can), then you will either need to change often to match output. Alternatively, you can boost your nappy with extra layers, such as adding in one of our Boosters or Trifolds. This will further push out changing time.
How do I use cloth nappies when out of home?

Using cloth nappies when out-and-about is made simple with our gorgeous range of reusable water-resistant bags, aka "Wet Bags". These bags are designed to store your baby's soiled nappies until you return home. 

Simply remove the soiled nappy from bub, fold up and place inside the bag. The zippered seal will help contain odour and moisture. 

Our Large wet-bags feature dual pockets, allowing you to place clean nappies/clothing in the front pocket and transitioning soiled items to the rear pocket. 

When returning home, remove soiled items from the wetbag and place in your dry-pail (or optional hand rinse and strain before adding to your dry-pail if items are heavily soiled). 

You may choose to wash your wetbag, otherwise you can also turn inside out to air or wipe down to be able to reuse immediately/next day.