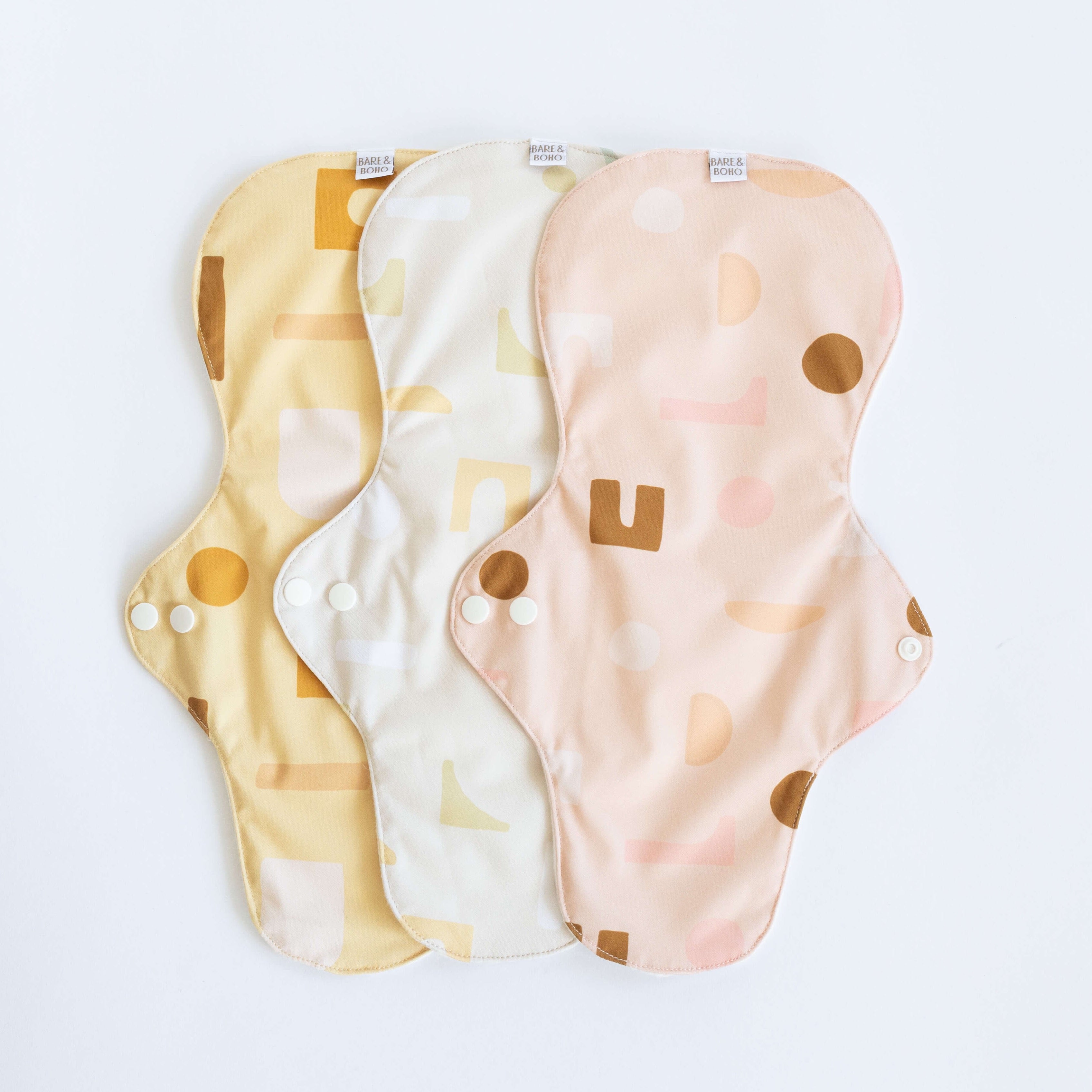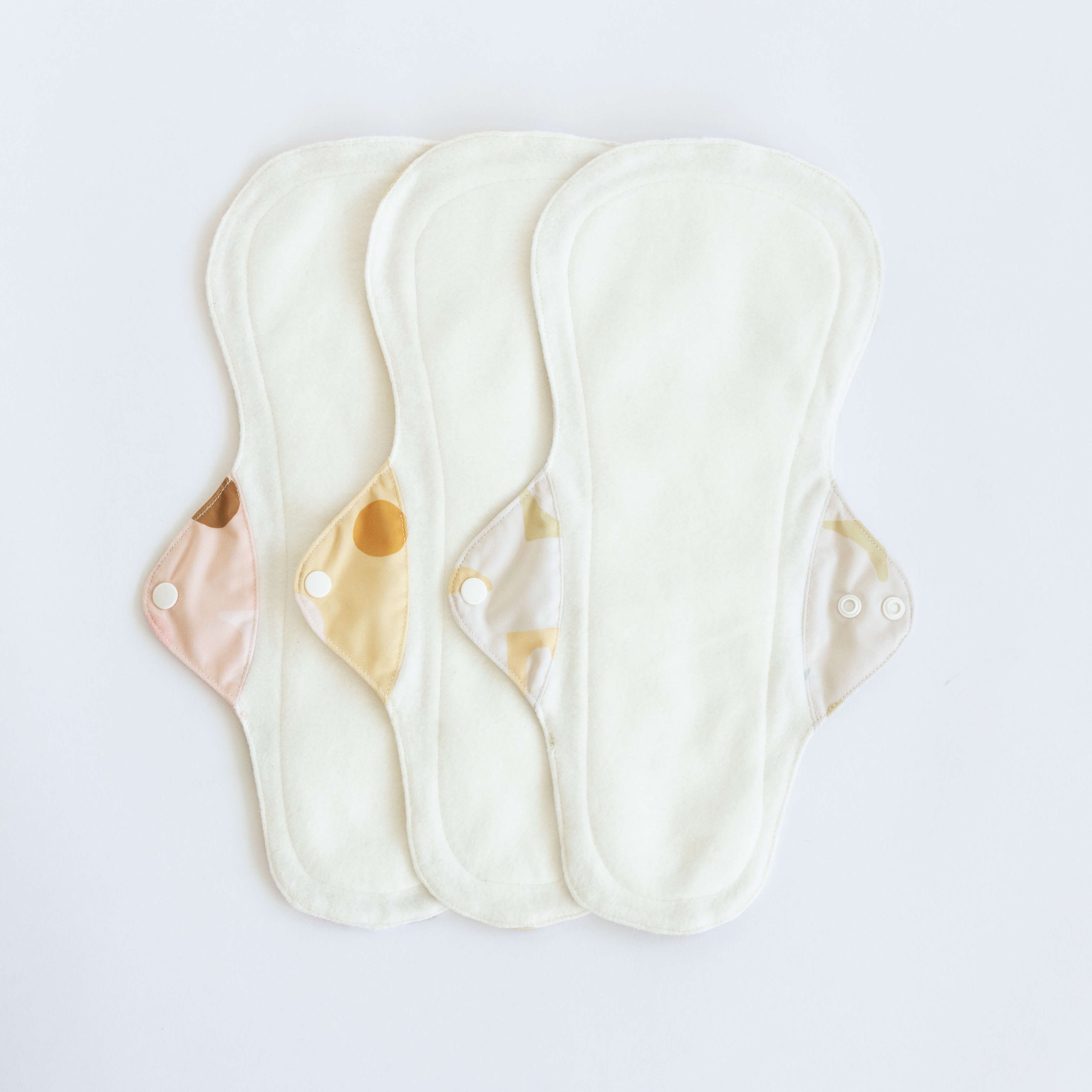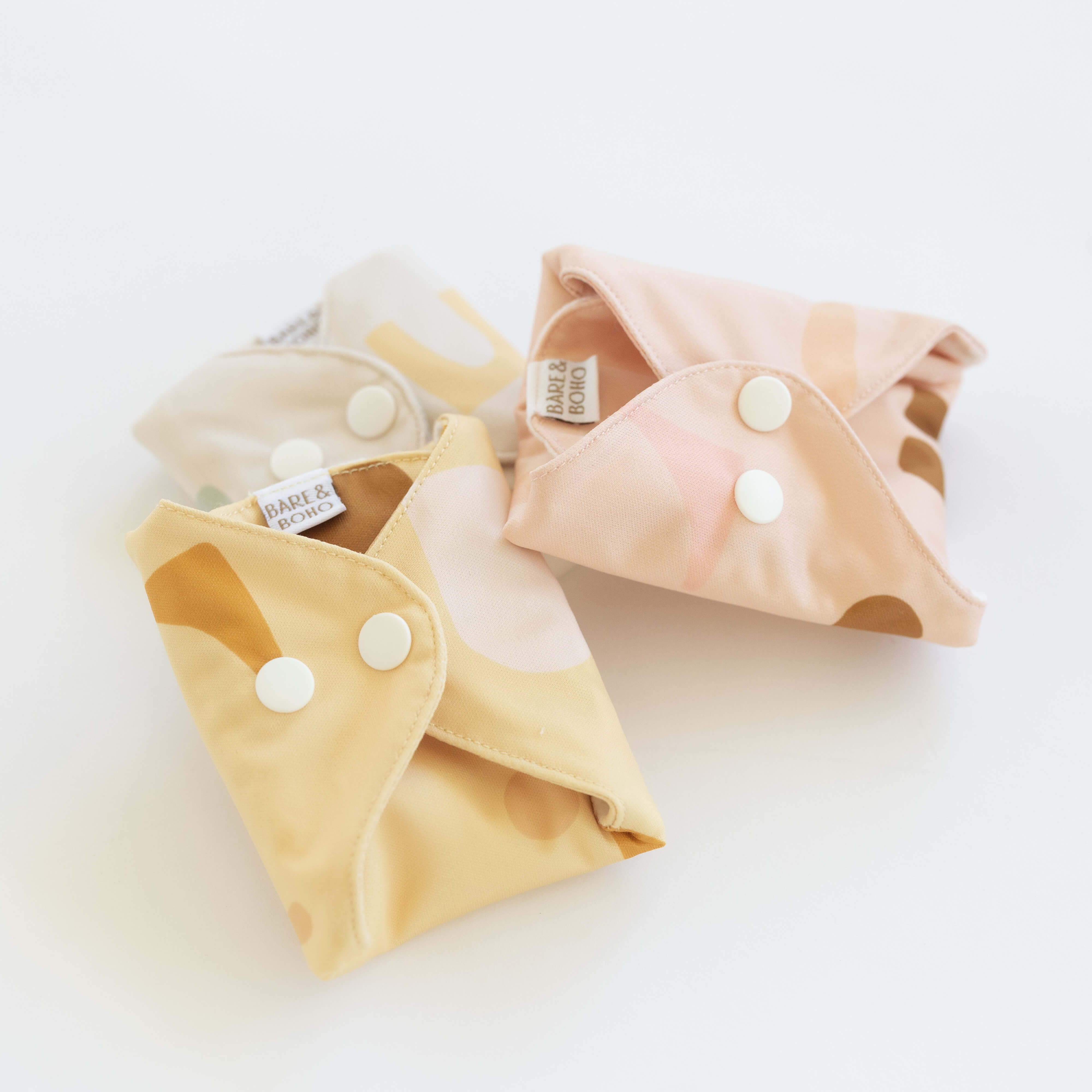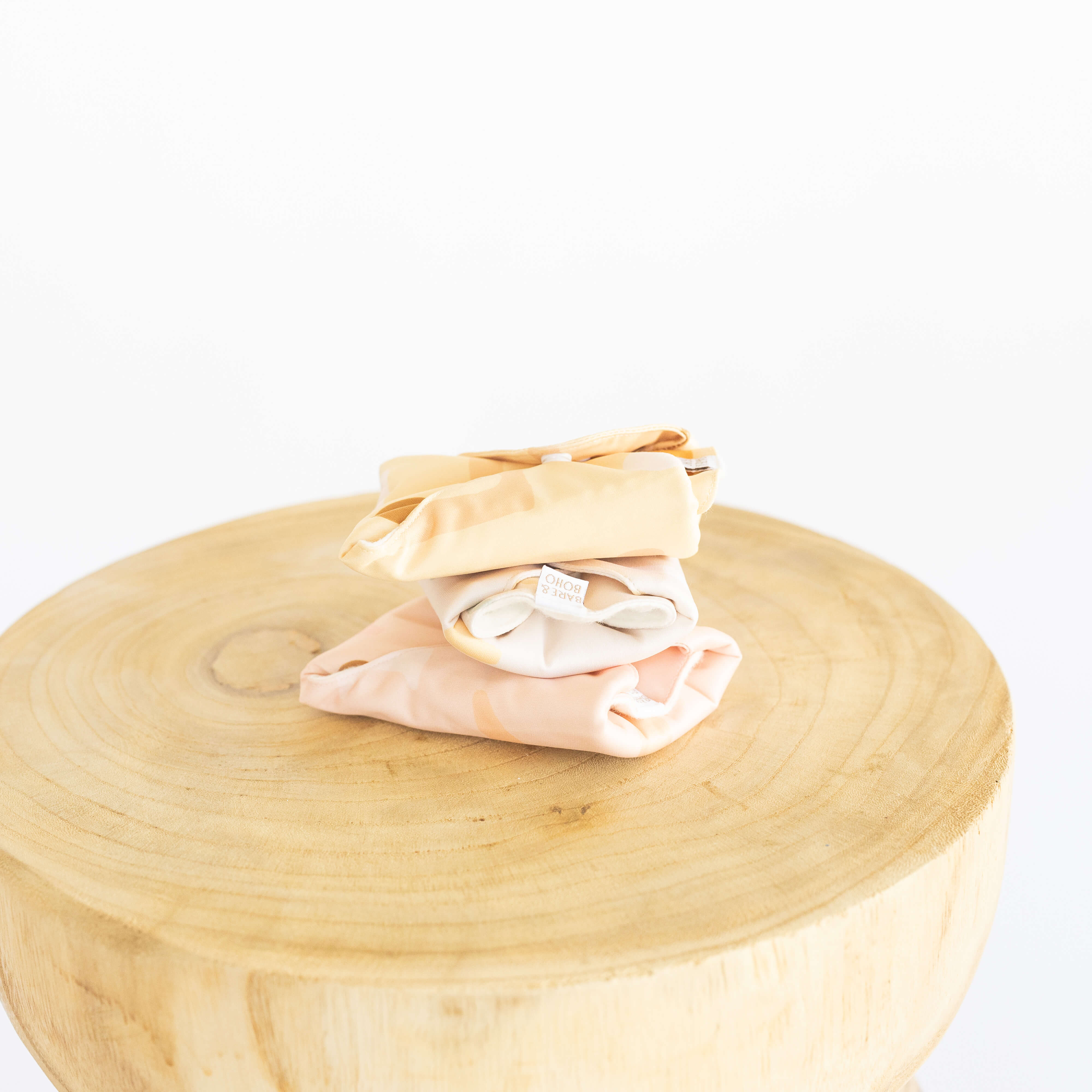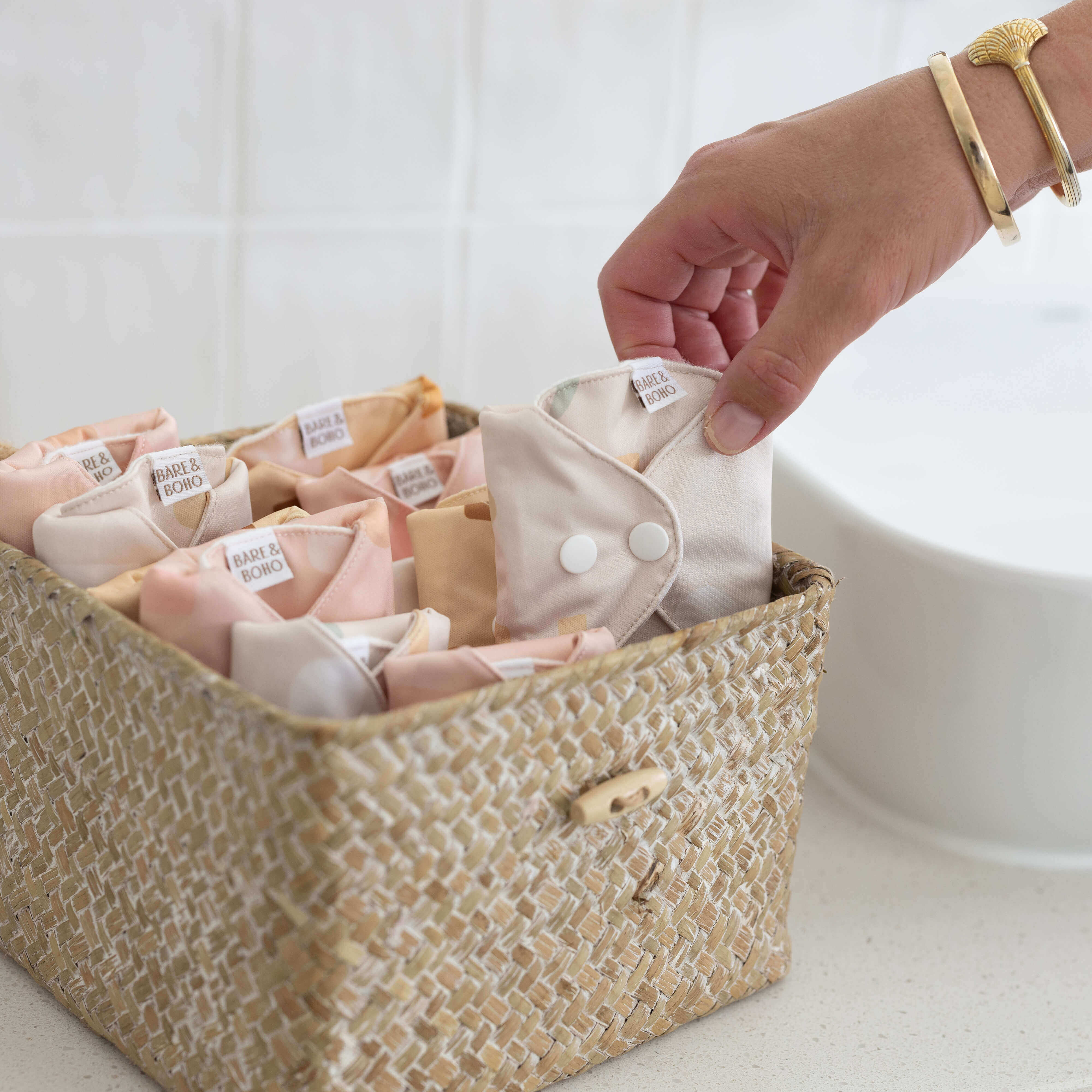 Reusable Cloth Pads | 3 Pack Shapes
---
Introducing our Reusable Cloth Pads - a revolutionary and eco-friendly solution designed to provide comfort, reliability, and sustainability during your menstrual cycle. Say goodbye to disposable pads and tampons.
Our cloth pads are designed in fours varied sizes to offer tailored absorption throughout the days of your cycle or for incontinence.
Our Ultra Heavy Cloth pad is designed for the most heavy flow, including post-partum maternity. This pad is longer than the other three pad sizes we offer, and also features a wider end on one side, that provides extra protection when sitting or lying down. The wider end of this pad, can be worn to the front, or to the rear – wherever suits best for your flow.
Each pad is reusable and machine washable.
Made from post-consumer recycled polyester, the cloth pad range features water resistant lining – these function just like disposable pads. Water resistant wings can be adjusted to two different widths. The snaps on the wings, snap around your undies, ensuring they are secure for you.
Each Ultra Heavy pad contains a base layer of water resistant fabric and is covered by three layers of absorbent bamboo-cotton fleece. These layers are both soft, and absorbent.
Our pads can also be used effectively for perspiration, incontinence & post-partum use.
With four sizes to choose from, check which one is right for you with our Size Chart

---
---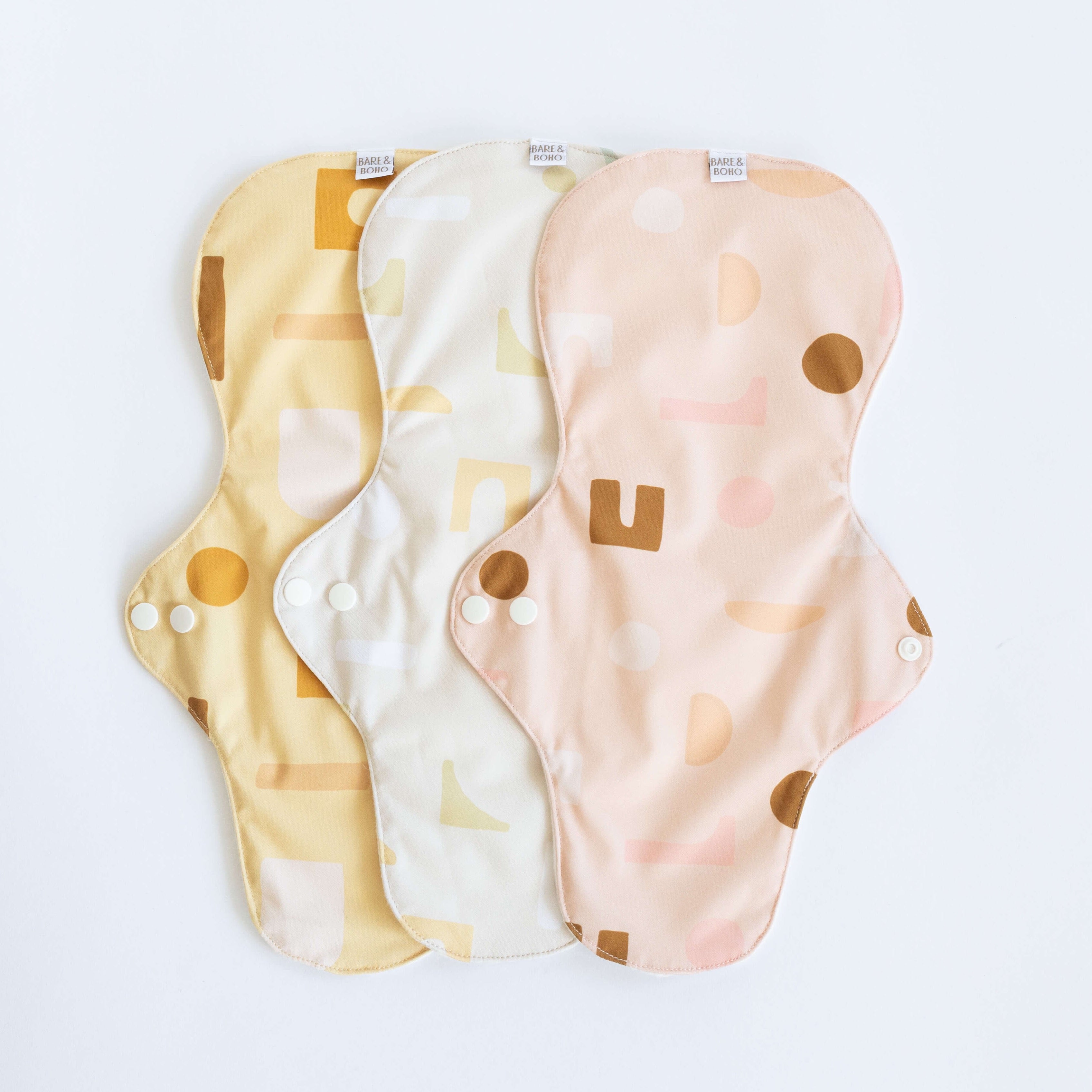 FAQ
How we care for our bodies and our cycle, are more important than we may think. And the attributing impacts of our feminine hygiene products on the environment, to our health and the impact on our bank accounts is more significant than one may realise.
You'll love the change, appreciate the reconnection and feel empowered by the conscious hands-on approach cloth usage involves.
Do I need to pre-wash my cloth pads?

Prewashing your pads is only for hygiene reasons due to the handling of the nappies through the production cycle and warehouse handling.

They can be added to your prewash of insert cycle. 40 degrees.
Will my cloth pads stain?

Our organic cotton inner lining may linger in markings over repeated use and this is not uncommon and indeed normal. You can rest assured they will be sufficiently cleaned if following our washing routine.

Marks that can cause concern are potential mould spots which will appear as small spots in dark green/dark grey/black. This will be due to insufficient washing routine or when pads were not sufficiently dried before storing away in between uses. 

We recommend using Tuffy Stain Remover bars for optimum stain removal.
Cloth pads are very absorbent and are designed to contain effectively outflow. We do recommend changing to suit your needs to reduce the chance of leaks, recommended changing time between 2-4 hours. 

The organic cotton is carried over to the wings for optimum protection. 

Please avoid fabric softener on your pads, as this can create a build-up in the fabric and reduce absorbency. 

If you are finding your pad is not effectively containing your flow, you will need to consider upgrading to one of our larger pad options.